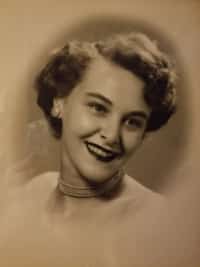 Venita Jacqueline Perreault
April 18, 1936 – March 19, 2020
On Thursday, March 19th, 2020, Venita Jacqueline Perreault passed away peacefully in Edmonton, Alberta at the age of 83. Venita was born in Carleton County, Ottawa. She was first and foremost a devoted and loving mother and, later, a supervisor at Edmonton Telephones for 25 years.
Venita is survived by her loving family: Danny, Connie, Jeannie and Darcy (Barb); grandchildren Bob (Aidan), Randy (Teresa), Franz (Lavinia), Eve (Tory) Christopher (Felicia), Amanda (Bryce), Samica (Chris), Danielle (Matt) and Levi; great-grandchildren Abby, Alysha, Mya, Frederick, Sophia, Henry, AJ, Logan, Venita-Rose, Michael, Elizabeth, Benjamin, Philip, Liam and Charlotte; along with numerous relatives and friends.
Venita was predeceased by her husband of 55 years, Robert Leo Perreault (2011), son Bart
Perreault (2007) and parents Julienne and John Skott.
Memorial Mass
A private Memorial Mass will be held for Venita at a future date.
Memorial Donations
Memorial donations may be made in Ventia's name to a charity of one's choice.