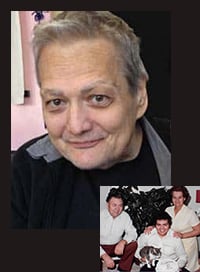 Vern Basil Yakimishyn
Vern passed away peacefully on February 5, 2018 at 60 years of age.  Lovingly remembered by his sisters Wynne (Errol) Widdis and Lana (Kirk) Toth, and by Kevin McArthur. Vern will be missed by his nieces and nephews, Aaron (Kathryn) Widdis and baby Abraham, Colleen (Joao) Borralho, Eric Widdis, Duncan McArthur, Juliana McArthur, and Casey Toth.  Vern was predeceased by his parents Kay and William Yakimishyn, and very recently by his loving sister Lorie McArthur.
Vern's family would like to thank Ashbourne Garneau United Community for the care he received during the last year of his life.
Vern was cremated in February and a funeral will be held on April 28, 2018 at 3:00 pm at St. Basil's Ukrainian Catholic Parish, 7007-109 St NW, Edmonton, AB with internment at the Evergreen Cemetery, 16102 Fort Road NW, Edmonton, AB.  A memorial dinner will follow. Please RSVP to Lana at KLToth@telus.net for the reception.
Vern was born December 2, 1957 in Lamont, Alberta. He was the only son with 3 sisters. The family lived on the Lamont farm until the spring of 1960, then moved to Beverly. In June 1961 the family moved to the 101 Ave apartment block/café and barbershop in Terrace Heights.
Vern went to local separate schools – St Kevin's, St Bride's, St Gabriel's and Austin O'Brien High School, from which he graduated in 1975. For grades 7 and 10 Vern attended St Mary's Salesian Boys' School. Vern spoke fondly about being away at St Mary's School and coming home for weekends. He excelled academically and participated in all the sports. Vern completed his Bachelor of Arts Degree in Psychology from the University of Alberta.
Vern grew up attending Saturday morning art school, Ukrainian, accordion, and dance lessons. He also played the trumpet in the school band. Vern was part of a large extended Ukrainian family and attended numerous wedding and anniversaries.  Vern was a terrific dance and always had his sisters and cousins to dance with.  He and Lorie would dance many polkas together. Lana remembers Vern telling her that she tried to lead too much.
Vern worked in various capacities in the Social Services field  He worked in government institutions as a correctional officer and then as a childcare counsellor. For the past 15 years he worked the night shift at the Yellowhead Youth detention centre as a child counsellor.
Vern has been involved with the holistic health field studying hypnotism. He had a passion for the study of consciousness including Oriental Medicine, Aromatherapy and Mind Expansion Technologies.
Vern remembered spending a lot of summers at Uncle John and Aunt Nettie's farm with cousins Orrie, Yak and Balls. He had fond memories of barn dances and drinking lemon gin, which he swore off of in later years. He remembered sleeping in the farm house attic with Yak and seeing his breath in the winter time. He learned to sleep with his head under the covers even after a night of beer drinking.
Vern never married but visited with his sisters and their families regularly. The family has fond memories of Vern wrestling with the kids and letting them win.
Vern suffered a heart attack in May 2016. Following this his health was severely limited.  He moved into Ashbourne Garneau United near the UofA hospital and was well taken care of.
Lorie managed all of Vern's affairs and the two were very close.  Lorie was always available to help Vern with his medical appointments. When Lorie got sick, Lana would facetime Vern to Lorie so they could talk and see each other.
Vern's family will miss his generous spirit and his deep love of life.
Вічная Пам'ять! In Everlasting Memory