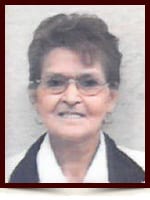 Viola "Vi" Chesser
June 9, 1943 - July 15, 2015
On July 15, 2015, Vi passed away peacefully at the age of 72.
She will be sadly missed by her daughters Paula and Tina, sons Rick, Brad, Greg and Murray, and grandchildren Ron, Bill, Josh, Samantha, Ashley, Jessica, Abby and Austin. Her sisters Kathy and Ruby, brothers Fred and Oliver, and numerous nieces and nephews.
She was predeceased by her Husband William Chesser.
Memorial Service
10:00 Wednesday July 22, 2015
Sacred Heart Church of the First Peoples
10821 96 St NW, Edmonton, AB
Contact Information:
[wpseo_address oneline="1" show_state="0" show_country="0" show_phone="0" show_phone_2="0" show_fax="0" show_email="0"]