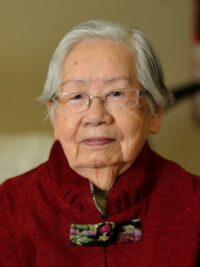 Wai Fong Wong
April 14, 1927
-
June 30, 2021
It is with great sadness and heavy hearts that our family announces the passing of Wai Fong, WONG, our beloved mother on June 30, 2021 at 94 years of age.
She passed away peacefully at the Miscercordia Community Hospital, Edmonton, Alberta, Canada after a brief illness.
She leaves to mourn her husband of 74 years, Boon Ng and five children, Bill Sung Wai (Shana), Theresa Sin Kwan, Emily Sin Wan (Bruce), Lina Sin Yu (Ken), and Andrew Sung Fai.  She also was survived by three grandchildren, Janet, Ken and Kevin. She was predeceased by her parents, sister, brother and David, her grandson.
She was a devoted, giving and capable wife and mother. Although she seldom openly expressed her love, her dedication and self sacrificing actions to us were evident and deeply cherished. Our mother often demonstrated foresight, courage, great pragmatism and excellent organizational skills. All her life, she had been always hard working with keen independent spirit. Our mother was very fond of her nieces, nephew and sister-in-law. She will be dearly missed by family and relatives.
She will live on in our hearts and memories. Rest in peace.
Due to the current pandemic, there will be no service.
Cremation proceeded and interment took place on July 12, 2021 at the Holy Cross Mausoleum, Edmonton, Alberta, Canada with all her children, sons-in-laws and grandsons present.
If you would like to pay condolences, follow the link:. https: www.trinityfuneralhome.ca