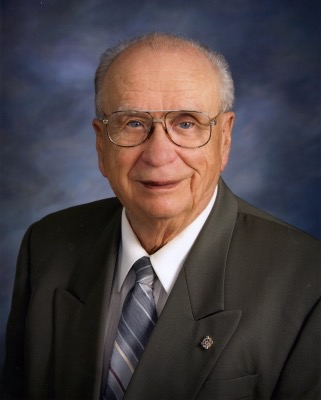 Walter N Nychka
November 21, 1932
-
May 26, 2022
On Thursday, May 26, 2022, Walter passed away at the age of 89, leaving to mourn: brother and sister-in-law, Emil & Pam Nychka; daughter, Marie Nychka (Mejia); son-in-law, Mario Mejia, grandsons: Adam Blocka & Boyan Blocka; grand-daughter-in-law Andrea Jacques; great-grandson Zen Blocka; honorary grand-daughter, Nikki Hulowski; nephews and nieces (Gary, Debbie, Walter, Bobby, Michael); and many friends!
Born on a homestead in Northern Saskatchewan, to parents Paul and Evdocia (Jessie) Nyczka. Walter was raised in Moose Jaw, had a happy childhood and, despite losing an eye at 15 years of age, had an active childhood that included Baseball, Hockey, Football, Boxing, Singing and Ukrainian Dance.
It was through Ukrainian Dance, that Walter came to meet his sweetheart and future wife, Mary Irene Nychka while performing for Queen Elizabeth II during her Majesty's tour of Canada.
Two years later Walter and Mary married and one year after that their daughter, Marie, was born.  From there, the family moved on to Calgary and eventually to Saskatoon where they were very involved with various Ukrainian organizations.  Walter and Mary passed on their love of music and dance to Marie and spent many hours supporting Marie's training, dreams and ambitions as her biggest fans.  When Marie left home to become a professional dancer and choreographer, Mary and Walter moved back to Calgary where they worked tirelessly for St. Vladimir's Ukrainian Orthodox Church.  Walter was instrumental in the church building committee, fundraising initiatives and as a volunteer cook for countless church events over the course of 20 years. Everyone loved his humor, singing and pancakes.
For 25 years Walter worked with Revenue Canada, ultimately heading up the Calgary office before retiring to his own Tax accounting practice and side business ambitions. Along the way, as a serial entrepreneur, his enthusiasm for business included: a charter boating business, sunglasses, providing flame resistance to oil rigs, long distance phone services, flax seed, and a not-so-silent partnership running a restaurant!
Walter loved to fish; whether it was fly, ice or on a houseboat — as long as there was a rod and a line involved, he was all in. He also loved curling, particularly at the Garrison Curling Club in Calgary where he was an honorary member.
Twenty years ago, Walter and Mary moved to Edmonton to live with Marie and her husband Mario. Mary passed away in 2016. For Walter's last year he resided at St. Thomas Community Care, where he was very well taken care of and loved by all. Walter loved his family, friends, church, Ukrainian culture, singing, telling jokes, tall tales, playing cards, and anything chocolate.  He is greatly missed.