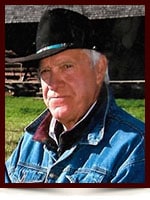 Wilfred "Wilf" LeBlanc
It is with great sadness that Wilfred "Wilf LeBlanc passed away on Thursday April 28, 2016. Wilf was born on August 26, 1929.  He is survived and missed endlessly by his loving wife of 64 years, Adeline LeBlanc; his six sons, Aurel (Kathy), Ron (Andrea), Denis (Apryl), Laurent (Dionne), Mark (Deanna), Neil (Holly); 17 grandchildren and 16 greatgrandchildren.  Pre-deceased by one son, Urban, three sisters and one brother.
Funeral Service
Thursday May 5th, 2016 at 11:00am
Our Lady of Perpetual Help Parish
13 Brower Drive, Sherwood Park
In lieu of flowers, donations can be made to the Palliative Unit, Covenant Health, St. Joseph's, Edmonton.