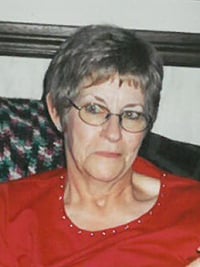 Winnifred Ruth Didow
March 3, 1938 – November 26, 2018
It is with sad hearts and wonderful memories that we announce the passing of Ruth Didow - wife, mother, grandmother and sister. Ruth passed away after a very long and courageous battle with Parkinson's (Multiple System Atrophy). She will be forever remembered by her husband Edward Didow and their loving children, Rick (Marilyn) Didow, Rodd (Suzanne) Didow, Jill Didow (Greg Christenson).
Ruth is survived by her two sisters Lynn Harrington (Don Mock) and Elaine Martin (Ken) and was predeceased by her sister Jean Mercier. Also very important in her life were her grandsons, Kyle (Tiffany), Zachary (Donica) and Aaron (Savannah) and her granddaughters Gracie and Serena and her grandkids with fur (Jill Didow). She is also survived by four great granddaughters – Jayden, Jordyn, Zoe and Dia. Ruth will also be forever remembered by her numerous nieces, nephews and dear friends.
Born and raised in Wanham AB to parents Helen and Ed Harrington she lived a wonderful life. Her Dad was the postmaster, mayor and owner of the Marshall Wells store. Her Mum was the District Nurse, credited with saving many lives in those early years. Ruth met Eddy Didow from Rycroft AB and the rest was history. They made their home in Grande Prairie, Vermilion and then finally settled in McLennan to raise their children. Times were not always easy back then but they made a loving home for their children. Eddy worked for years on the Northern Alberta Railways and as a beekeeper, and Ruth worked as a kindergarten teacher and at the local Toronto Dominion Bank. In the early 80's they made the move to Edmonton where Ruth was employed with the Government of Alberta in the Infrastructure Department (Realty Division). It was there she made many friends and worked for 30 years until her retirement.
Ruth loved to travel with her friend her Donna and made trips to Britain, Spain, Portugal, Italy and the States. Day trips around Alberta were not uncommon as they scoured the craft markets for perfect family gifts. Her 'spectator sport' passions were figure skating and hockey and curling.
Ruth loved nothing more than her family and she showed that love every day. She kept her family together with her love of cooking and baking. Christmas, Easter, birthday or special occasions were celebrated by bringing the family together with a wonderful dinner and special dessert. She made the best buns and hot cross buns and her family will always remember seeing her pull up and exit the car with a container for all.
Loving and kind in all her ways,
Strong and a fighter to the end of her days,
Sincere and kind in heart and mind.
What beautiful memories she leaves behind.
Rest in peace beautiful Ruthie
When our Mom was diagnosed with Parkinson's there was nowhere for information and support. We were on a journey alone. For that reason we ask memorial donations be made to:
The Buchannan Centre for Parkinson's
11209 86 St NW, Edmonton, AB T5B 3H7, https://www.gdbuchananfoundation.org/donate
Special thanks to the staff at Citadel Care Centre in St. Albert for taking care of Ruth for 6 years
A Celebration of Ruth's life will be held on Monday December 10, at 10 a.m. at Trinity Funeral Home 10530 116 St NW, Edmonton