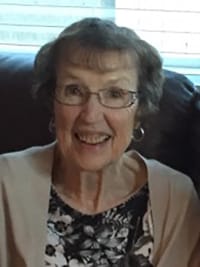 Yvette Marie Kinsella
On August 14, 2018 Yvette Kinsella passed away peacefully at the age of 85 attended by family. She leaves to mourn: her loving husband of 67 years Mark; 4 children: Wayne (Elaine) Kinsella, Elaine (Gord) Bredo, Pat (Jo) Kinsella, and Kevin (Lynne) Kinsella; 11 grandchildren and 18 great-grandchildren; as well as  4 siblings: Theresa Vachon, Laura Johnson, Andy DesLaurier and Pauline (Victor) Cantera. Yvette was predeceased by her parents Camille and Salomie Deslaurier and brother Gerald Deslaurier.
The family would like to give a special thanks to the nurses, staff and doctors who cared for her so lovingly for the 21 years she battled leukemia. Dr. Chichak, Dr. Larratt, Dr. MacIver, the staff at the Citadel, and the Doctors and nurses on Unit 19 at the Sturgeon Hospital.
Memorial Mass
Tuesday August 21, 2018 10:00AM
St. Albert Catholic Parish
7 Vital Avenue, St. Albert AB.
In Lieu of flowers please make donations to the Alberta Cancer Foundation.